Solution
After partnering with RoleModel, Upward's new system now handles contract signing in-house. Since they operate in many states, their system must adapt to each state's different requirements, with the form automatically matching the required specifications while providing an optimized signing interface for mobile and desktop.
They also wanted their new software to make things easier for their independent contractors, especially their truck drivers. The office staff needed a way to communicate with their drivers in their app, but the truck drivers often did not want to have to log into an app. The solution was to build a tool into the app where the office staff could communicate with the truck drivers through email or SMS using the app, but the truck drivers were not required to use the app if they chose not to. The drivers can also scan QR codes to complete their workflows rather than logging into the system.
Throughout the project, Upward and RoleModel looked for opportunities to simplify and shorten workflows in the system. A great example of that is the integration with Upward's backend accounting system (RTO Pro). Part of the project goal was syncing initial payment information to RTO Pro, but RoleModel also identified how to fully automate the import of new contracts into RTO Pro. The integration saved dozens of hours per week of manual data entry.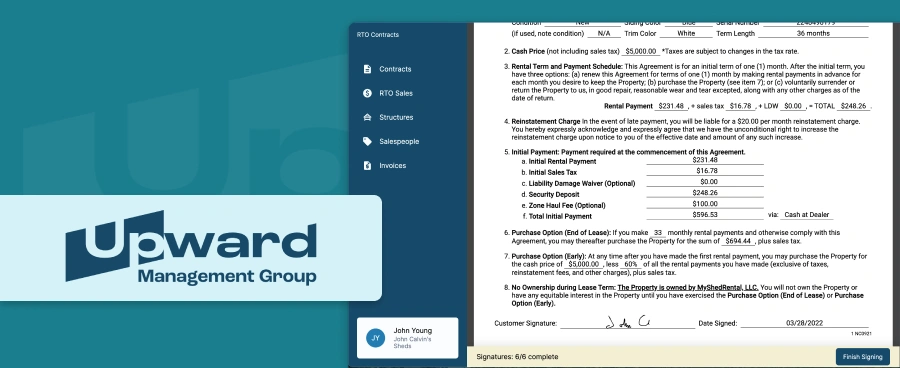 RoleModel and Upward collaborated to identify that their custom software solution's biggest value was providing an easier process for their stakeholders, namely their dealers and truck drivers. The dealers need contracts that are easy to fill out while having the ability to imagine "what if" scenarios (i.e., What if we changed the dimensions? What if I took a longer lease?"). Their new platform makes it easier to go to new dealers and recruit them to sign up for the new platform. Additionally, their truck drivers have an easier time by including everything they need in the app.
In the end, RoleModel gave Upward a clean, modern, efficient workflow tool—a user-friendly software that made work easier for their front-end dealers and contained back-end improvements for active contracts.