Overview
Sayfa is one of our long-term partners. They began work with RoleModel in 2018, and continue to invest in their software and in the partnership. Sayfa Group provides world-class industrial access, height safety, and fall protection systems to ensure every worker gets home safely. Sayfa serves installers around the world with customized, modular solutions to meet access and safety needs for those who are "working at height."
Sayfa Group is a product innovator. Their KOMBI system is an engineered, no-weld, modular stair and platform system designed for easy customization and on-site assembly using reusable components.
Sayfa's software allows them to design a fall-protection system without a draftsperson and they have continued to make upgrades to their system to expand its capability. Some recent upgrades include introducing their roof designer software, the addition of ladder configuration, and administrative controls across both apps. Sayfa continues to invest in their software because of the value it adds to their business. Read their full story below.
Problem
Sayfa's sales team works directly with distributors and installers to create custom installation designs. This process requires a draftsperson with knowledge of the engineering constraints to design a solution using CAD software, leading to long time-to-quote cycles. If the sales team needed to make edits after presenting a design to a client, they would either mark up a printout or have a draftsperson modify the CAD design.
This approach was not ideal. A marked-up design did not look professional and the engineering/design team could be better utilized for unusual or complex system designs. Sayfa needed a "virtual" sales engineer to accelerate time-to-quote cycles and to streamline the entire quoting, manufacture, and shipping process.
Solution
Sayfa Group worked with RoleModel Software to develop a web-based 2D/3D configurator system that leveraged RoleModel's LightningCAD framework. The RoleModel team started by examining the existing paper-based workflow and examples of KOMBI designs.
In the initial phase of the project, RoleModel's team built an end-to-end workflow of the configurator system. This basic system allowed simple platform and stair placement and established a basis for feedback loops and progressive iterative development.
A 3D rendering system was built to enable users to see the complete design in their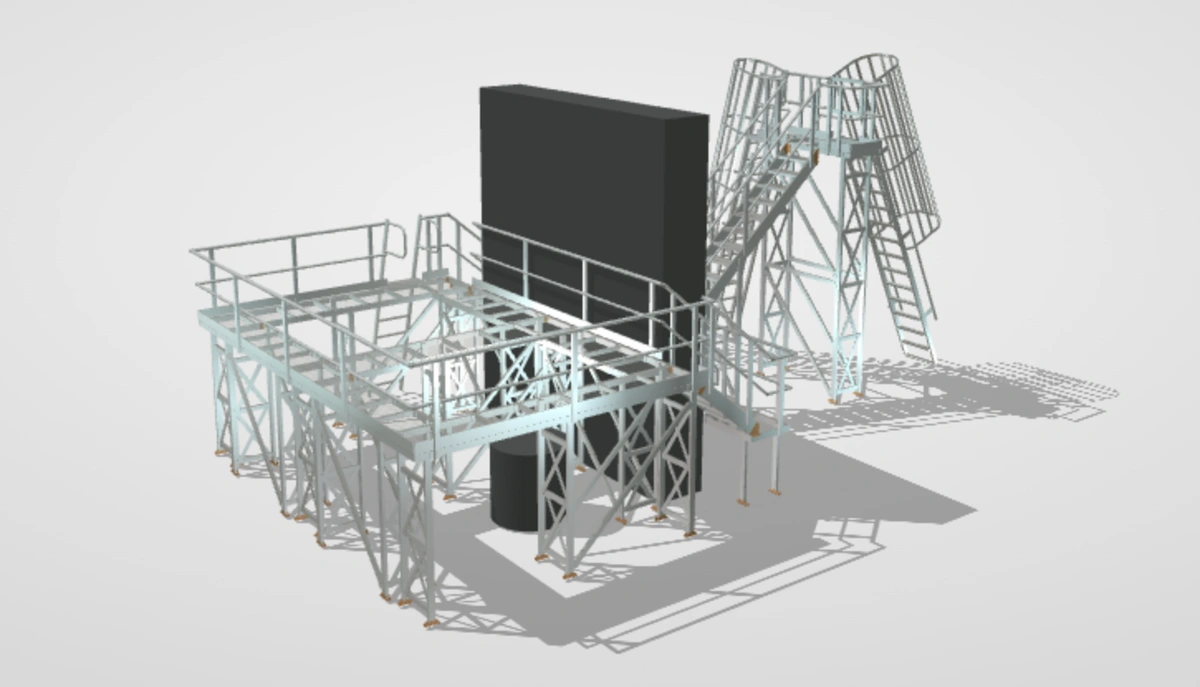 browser. With PDF exports of installation designs, Sayfa could provide their customers with polished, professional deliverables as part of the quoting process. RoleModel worked closely with experts from the Sayfa team to craft a system that supported their design goals, applied engineering rules, and had an end-user focused workflow.
The new system produced a detailed and accurate parts list that can be fed back into Sayfa's ERP system to produce quotes. To show complex parts such as brackets or braces that attach at specific angles, RoleModel imported Sayfa's existing 3D parts models directly into the configurator. Later iterations of the software incorporated data from Sayfa's ERP system to give salespeople real-time feedback on how design changes impacted costs.
Results
RoleModel and Sayfa conducted several rounds of testing with internal users over several months. The team identified critical pain points and addressed them to improve usability. When the new software was released to the sales team, it reduced a 4 or more hour process down to about 30 minutes.
The Continued Partnership
Sayfa started work with RoleModel in 2018 and has continued their partnership with RoleModel over the years. Sayfa has opened their app to their partners, changing it from an internal tool to a shared resource. Because of this change, they have requested updates to the platform to support their growth.
Enhancements made to Sayfa's system include refreshing the 3D view within their system, adding details like brackets, and they added updates to the catalog, like rung ladders, and new configurations for the platforms.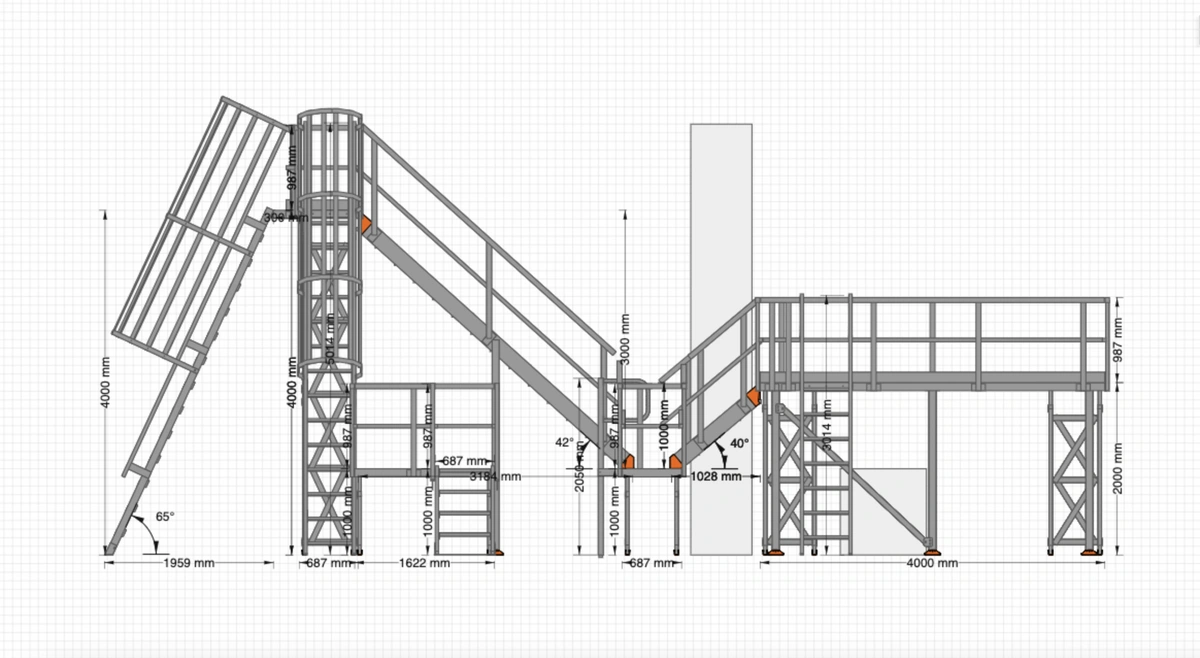 The main additions added to the software were the ladder configurator, their roof designer software, and administrative support.
Sayfa wanted a ladder configurator added to their software to more precisely design their systems. Now, they can edit a ladder, and change the landing style it is attached to. Their system also allows you to change the fall protection types that relate to the ladders, to more accurately design their safety systems.
Sayfa also wanted a new software asset that would allow them to map out their safety systems on roofs. RoleModel built software that lets them import a building plan, and then drop their products onto it, mapping them within set constraints. Their roof designer software interfaces with their main software so they can design a system and import it into their roof designer software.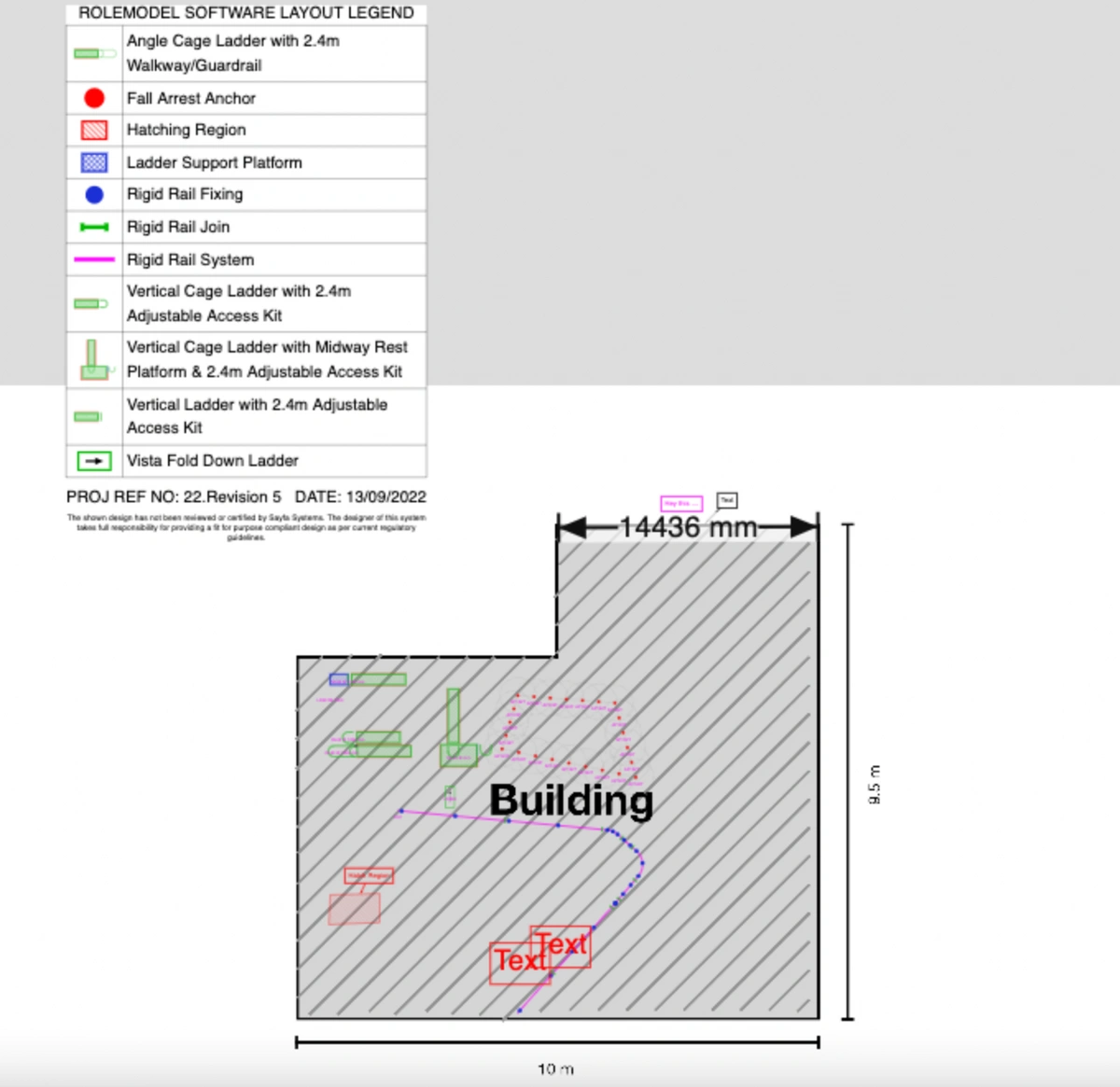 Once Sayfa had two software assets to manage, they needed some admin support for both. Now there is an authentication portal that allows them to manage access and permissions for their different configurators from a central place. Administrator access works across both platforms, such as the ability to add distributors or update access controls. Administrators can also change the recommended retail prices and Sayfa's price for products which then automatically update across both platforms.
Sayfa moved to continuous improvement for their system as they expand their use throughout their business. This includes integration features like expanded support for DXF and DWG files.
Sayfa's software is so successful that they use it as a shared resource for their partners. They continue to partner with Rolemodel because of the value their technology brings to their business. As the partnership continues, their system can grow and scale as they do.